Current turnaround time: 1-2 business days
New! $5 flat rate shipping for US orders under $50; still free over $50!
sizing:
New! Use this calculator to quickly find a size that should work for you. You'll also find it on each of the product pages for convenience.
Sling size Calculator:
Your height:
Your weight:
Snug t-shirt size:
Desired tail length:

Recommended length:
In brief:
SBP slings are sized based on a snug-fitting t-shirt size, and should yield an approximately mid-thigh length tail in each size.
Ordering by t-shirt size will give you a sling that should fit 95% of people in that shirt size.
If you are on the far ends of the bell curve (e.g. very tall and thin or very short and heavy), you may email, but it's likely your shirt size will still be fine and will probably still be what I recommend.
Men can also order by their t-shirt size, although they may wish to go one size down, since most men in my experience prefer a tail length that is shorter than mid-thigh length.
Sizing is NOT critical when wearing a ring sling; I have worn shirts from sizes L to 3X and could wear an XS sling at any of those sizes -- the tail is just really short in the 3X case. Please do not stress over the sling size! Ordering your t-shirt size is more than adequate for the vast majority of users.
A note about using a ring sling for ruck-under-bum back carries: I do not personally recommened this position unless you have considerable back carry experience with a short wrap already. [more]
Why is this page so long? And why do you have sizes for your slings? Isn't a one-size sling good enough?
There is more information here than is really necessary. I've just gone into a lot of detail to try to help people out, based on the emails I get each day. If you are an average-sized person and don't want to measure, and don't particularly care what length the tail is, a small or medium sling will likely be fine for you. After all, it's only the length of the tail that changes with the length of the sling, and sizing really is not critical in wearing a ring sling. It's just a little better if you don't fall into the typical "one size fits all" range, and you might enjoy wearing a sling more if it's made with your body size in mind.
If you order based on your t-shirt size, the tail will be around mid-thigh length. This is fine for the vast majority of sling wearers. The thing about the length of the tail (that's the part of the sling that hangs down in front, if you haven't looked at the anatomy page yet) is that it's really completely subjective. Some people prefer a very short tail; others like it knee-length or even longer. In my experience, the most useful length goes to about mid-thigh. That gives you enough fabric to use the tail as a rain or sun cover, or to cover up when nursing, but not so much that you'll trip over or get tangled in it. New users often find a shorter tail less intimidating, while experienced users frequently prefer a longer tail, but I recommend mid-thigh length because it's a happy medium for 95% of users. There's enough fabric that you can be generous while you're learning to adjust the sling (a too-short tail means you don't have as much room to adjust), and if you get a pocket or a tail accent, if the tail is shorter than upper-thigh length, the pocket/accent may run into the rings when you're adjusting it.
Minutiae:
When ordering a sling for yourself, there are two factors to consider: your size (and/or your partner's size), and the length of the tail you'd like.
The following chart data come from measurements done on real people wearing a real baby and sling. If your build is not on the chart, don't worry! Weight is more important than height in picking a sling size if your weight is proportional to your height, but if you are tall and thin you will probably want a smaller sling for your weight, and if you are short and heavy, you'll probably want a longer one. Again: I recommend you order by your t-shirt size. If you want a tail that's longer than mid-thigh length, go a size up; if you want a shorter tail, go a size down.
Measurement
Sling length for tail to end at...
Weight range
Height range
Hip
Mid-thigh
Knee
125 lbs & under
5'4" and under
approx. 62"
65" (xs)
70" (s)
115 to 130 lbs
5'4" to 5'7"
65" (xs)
70" (s)
75" (m)
130 to 150 lbs
5'5" to 5'8"
70" (s)
75"(m)
80"(l)
150 to 200 lbs
5'6" to 5'9"
72" (s/m)
80" (l)
85" (xl)
200 to 260 lbs
5'7" to 6"
80" (l)
85" (xl)
90" (xxl)
over 270 lbs
5'8" to 6'2"
85" (xl)
90" (xxl)
95" (xxxl)
You don't have to have one of the pre-determined sizes; if you would like something in-between, just make a note of it in the "special requests" section of the order form. However, please keep in mind that even wearing an extra layer under the sling will change the length of the tail, so unless you always wear just a t-shirt and your baby never grows, the tail length will vary somewhat as you wear it, and while I do the best I can to sew the slings to the stated length, there will always be a little variation in the finished product.
A note about sharing a sling with your significant other:
If you're looking to share a sling with a smaller significant other, it's very likely you can both wear the smaller size unless there is a large disparity in your builds. As long as the tail is longer than 10-12", it is still safe; it can be tucked in around the rings or into the body of the sling if you don't like the look of a dangling tail. If one partner is much larger than the other, unless the smaller partner wears an XS sling, the larger partner probably won't need a longer sling than the smaller one does. If one wears an XS and the other is a large or higher, you may want to consider two slings, or buying a slightly longer sling that the smaller partner may want to shorten while wearing (as above). However, if there is not a large size disparity, a size between partners is fine, or if the larger partner would prefer a shorter tail, a size for the smaller partner is fine. It's really all up to personal preference, as the tail length doesn't determine how the sling fits after adjustment (as long as it's at least 10" long).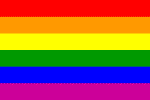 SBP is proud to support same-sex partnerships and parenthood, and I've long made donations to HRC and other equal-rights groups. I firmly believe that all parents and caregivers deserve our support and respect, and babywearing is for every caregiver. Please contact me if you have concerns about sharing a sling between caregivers, and I will do my best to help you get the best fit for your family.
Please note:
While I can hem a too-long sling, I can't usually make a too-small sling longer, though I can add a panel to the bottom if there's no pocket involved in the original, or add a panel in the back. However, if you send a sling back for alterations, that means you're missing it for at least a week, plus paying the shipping costs. I really recommend measuring yourself -- and emailing me -- first, so you can be certain your sling is the right length when you receive it.
Using a long ring slings for ruck-under-bum back carries: I do not personally recommend using a long ring sling to do this style of carry, and must completely disclaim any liability for incidents that occur when using this position against my recommendation. Back carries, especially those done with infants, are inherently more risky than front carries, whether you've been using a sling for a week or for years. I would encourage you to get comfortable with front carries first, and if you want to do back carries, purchase or make a short wrap for that purpose, rather than buying an exceptionally long ring sling to do it. If you would ordinarily wear a size medium, but purchase an XXL sling so that you can do ring sling rucks, and then you find that you are only using the sling for front carries anyway, the tail is going to be super-long, and that's a tripping hazard. I know this is a very popular idea right now, but it's really recommended only for experienced, seasoned babywearers, and I must discourage you in the strongest terms from doing this carry -- or for purchasing a too-long sling for the purpose -- if you are a new user.
I am aware that my words are occasionally used to support a "no back carries in ring slings ever!!!" position, and I disagree with this as well. If you have experience with back carries in a long or short wrap and want to try it with a long ring sling, I think that's up to your discretion. As long as you're heeding appropriate safety precautions (trying a new carry with a spotter or over a soft surface and checking on your baby and carirer frequently), you should be good to go. I would still not recommend this with a newborn baby or if you don't have a spotter at hand to help you, since it is more difficult to thread the rings than it is to just tie a knot.