Ready for all things water!
mesh water sling
100% nylon, this quick-drying, lightweight fabric is ideal for showering with your baby, playing at the splash pad, and wading at the pool or beach. Of course, don't do anything in the water you wouldn't do with your baby in your arms -- this is not a flotation device and should never be used in deep water or for actual swimming. The fabric is thin, and although it has very little stretch, it's not as supportive as woven fabrics. I don't recommend using it as your only sling with a heavier baby for long periods of time, but it is wonderful for water use.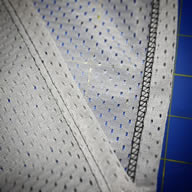 I sew my mesh slings with a coverstitched hem -- the type you'll find along the bottom edge of a t-shirt -- rather than simply serging the edges (like the inner seams of a t-shirt). This takes a bit longer, but it's more comfortable, stable, and safer than a serged edge. When the sling is worn, the zigzagged part of the stitch is on the outside for yours and baby's comfort -- no sharp hems digging in.


The following discounts apply to all these products.
Free first-class shipping