This week's message:
Current turnaround time is in the 1-2 business day range (excluding weekends).
Now including free US shipping on all in-stock slings!
Through Friday, March 31, take $8 off any order of $60 or more, no coupon required.
sling construction:
Sewing details in brief:
Overlapping knife pleat "cups" your shoulder easily, without lots of complicated adjustments.
Cut edges are hemmed (folded under and sewn), not serged (finished with thread only).
The hem is on the outside of the sling when it's worn, so it doesn't cut into your baby's legs.
I use only rings manufactured specifically for baby slings by SlingRings.com, as I find them superior in safety, weight, and appearance.
All fabrics are chosen for their softness, durability, and strength. I do not use calico fabrics, as they are simply not suitable for slings (for more information, see the fabric FAQ on my Do It Yourself pages).
Every sling is customized -- I don't sew it until you've ordered it. Length, color, fabric, and additions are all chosen by you, for you.


Shoulder designs:
While all ring slings are made with the same basic design -- a length of fabric with two rings on one end -- the design of the shoulder can make a big difference for the individual wearer. There are many ways to fold fabric in a ring sling -- for more, check these out -- and each one has its pros and cons for different-sized wearers, although there is no hard-and-fast rule about what fits who better. Two people with nearly identical builds often prefer completely different shoulder styles, so if there's a babywearing group near you, I'd recommend a visit to try a few slings out and see what you like.
Signature SBP Pleats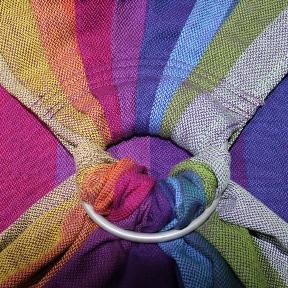 My own design is an overlapping knife pleat (at right, shown on a customer-sent Girasol Northern Lights wrap). It means you can spread the fabric out as much as you need, as seen in the photos in the gallery, to distribute the baby's weight over your shoulder and back. The shoulder area is between 6-8 inches wide (4-6" where it leaves the rings), and ideally caps your shoulder from collarbone to just below your shoulder bone. In my personal experience, this keeps the fabric from spreading out too much (i.e. over my whole upper arm) while allowing it to spread out more than a narrower design. Even though the pleats go in only one direction, the design still works on both shoulders; I have users who wear their slings on both shoulders, on just their right, or just their left, and I've never heard from anyone that it's less comfortable on one shoulder than the other.
The number of pleats will vary depending on the thickness and width of the materials used. Most slings will have seven or eight pleats. However, for the wearer's comfort, I use a larger number of smaller pleats on thinner fabrics, so the French twill will have 10-11 pleats; while thicker or narrower fabrics -- like Natibaby wraps, which are quite thick; and some older Didymos wraps, which are rather narrow -- will have five or six pleats instead. If you feel strongly about the number of pleats on your sling, please let me know ahead of time so that I can accommodate your wishes.)
Eesti: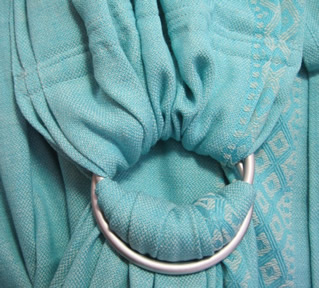 I am now also able to offer Karen Hoppis' "Eesti" shoulder style (at right), licensed with her kind permission, on WCRS and sling redos. The Eesti shoulder is a modified gathered shoulder, in that some of the sling's width is taken up in two 2" pleats on either side of the shoulder. This allows the shoulder to spread out more than my signature pleats, while keeping it somewhat more contained than a fully gathered shoulder (in which the fabric is simply brought through the rings and stitched in with no folds or pleats). Those who have tried my Signature pleats and found them uncomfortable may wish to give the Eesti shoulder a try if they are having a sling shoulder redone, or a wrap turned into a sling. I do not recommend it for users who haven't tried my signature pleats: it can be a slightly more difficult style to use, as it spreads out a great deal more and can cause issues if you don't know what you're doing.
Please be advised that other vendors are selling this shoulder style (usually calling it simply "hybrid") without credit to Karen and without paying her for her design. This is not done with her permission.
Floating Gathered:
There are a surprising number of ways to sew a gathered shoulder (that's where the fabric is simply brought through the rings and sewn down, without folds or pleats). The distance between the rings and the seam that secures them can actually make a huge difference in comfort. A floating gathered shoulder, which I am using by permission of Allison Henderson of Going Uppy slings, has the seam between 10-12" back from the rings. This uses a lot more fabric than pleats or Eesti, but the doubled layer of fabric lends extra comfort and support in thinner fabrics, and for those who prefer to spread the fabric out more than pleats or Eesti allows, it gives more flexibility in positioning at the shoulder. The seam sits behind the top of the shoulder, rather than in front. The seam is also folded under, allowing you to wear jacquard-woven slings with either side out.
The tags, sewn at the side of the fold, can be tucked between the layers and hidden, allowing it to be reversible -- this can also be done on Eesti slings, if the fabric is thin enough for me to fold under and sew through the pleated sections. (Many jacquard wraps, particularly linen or hemp blends, but also thicker handwovens, are too thick for me to sew reversible in an Eesti shoulder. Please consult me before requesting it.)
Retro pleats:
When I first started selling slings, I used a much wider shoulder style. It had 5-6 pleats which overlapped less than the current SBP style, and eventually, I switched over to the newer, more narrow style because of comments by petite wearers, who felt the original design spread out too much on their shoulders. It had always worked well for me and other plus-sized wearers, though, so after a long hiatus, I'm bringing it back as the Retro SBP style. I would recommend it for wearers who have broad or very rounded shoulders, or prefer to wear the rings high on their shoulders. It spreads out more than the newer pleats, more like the Eesti shoulder does if you scrunch it up a little, but with more structure than the Eesti design.
Below left: Retro SBP; below right: Retro SBP (bottom) compared to Signature SBP pleats (top)
Other styles: I am often asked to do other shoulder styles on slings, but it's not something I do, both out of respect for the businesses that created them, and because I don't have sufficient practice with other styles to sew them as nicely as I'd like.
All ring slings are made to go over one shoulder, not both. If you are looking for a two-shoulder carrier, which will distribute your child's weight over both shoulders, please see my links page for some suggested types.
Wondering how a sleeping baby sling compares to more expensive brands? Here are a few photographs of basic construction details -- how the rings are sewn in, and the hemmed edges -- so you can see how they differ.
rings:
I use only rings made by SlingRings.com -- after testing a number of different kinds, including the heavier steel rings, I came to the conclusion that these are the safest and most attractive available, and that they are well worth the small extra cost. SlingRings are made especially for baby slings, and are weight-tested to 250 pounds. Both the nylon and aluminum rings are very safe, will not break with even abnormally rough usage, and are quite attractive!
Aluminum ring colors: Ring colors may vary slightly from those pictured; each batch is a little different. Also, because of the anodizing process by which the color is applied, the darker rings may have two tiny plain dots where the ring was held while being anodyzed. This is not a flaw, but an artifact of the manufacturing process. Occasionally, some batches of rings may have small scratches. These are cosmetic only and do not affect the function of the rings, but if you are particularly detail-oriented and will be examining the rings at close quarters on a regular basis, please make a note in your order of a second choice in colors, in case your first choice tends toward these little blemishes.

Left to right: Silver, Slate, Black, Bronze, Red, Orange, Gold, Green, Turquoise, Blue, Purple, Pink
Ring sizes: Each type of ring also comes in three sizes:
Aluminum:
Nylon:
Diameter
Small
Med
Large
Diameter
Small
Med
Large
Inner
2.25"
2.75"
3.25"
Inner

2.25"
2.75"
3"
Outer
2.5"
3"
3.5"
Outer
3"
3.325"
3.625"
I will choose the size that is most appropriate for the material the sling is made of -- thinner materials will slip in larger rings. (There are three sizes in Nylon; the larger two just overlap a lot.)
About shiny rings:
SlingRings was the first company to produce aluminum rings for slings. Run by a wonderful couple in Arizona, they have always been careful to use baby-safe materials that are also safe for their employees to handle. Unfortunately, the standards kept by other companies are not always so high. Ring recalls have been carried out only for rings manufactured in China, which is where the shiny rings are made. Additionally, the process used to give aluminum rings a shiny finish uses hazardous chemicals that can be dangerous for those who work on the rings, which is why SlingRings doesn't make shiny rings. If you want shiny rings on your sling, you may send them to me to use. However, my personal preference is to buy rings from an American company that puts its employees' safety first, so I will not keep shiny rings in stock unless SlingRings comes up with a safe procedure for creating that finish in their US facility.
Edge finish:
Is my sling sewn inside-out? The hemmed edge of in-stock slings is sewn so that it is on the outside in the body of the sling. This is not a mistake, but a comfort factor: I have found fewer red marks on my children's legs when the hems are on the outside than when they are inside. This also means that the hem does not show in the tail of the sling. Since the bottom edge of the sling rarely shows, and the top edge is generally folded by wearing anyway, I feel this is a good tradeoff. I do fully finish the hems with a 1/2" fully-enclosed hem, so I don't think it's a bad look (see sample at right -- thread is shown in black to highlight its placement, but will actually match the fabric color). If you would prefer to have the hems inside in the body of the sling (so that they show on the tail), please make a note of it when you order.
Why not a serged edge? I don't use serging on woven fabrics (like twill, tencel, silk, etc.) since I don't personally like the way it looks, and I am not 100% confident that a serged edge will hold up to years of use; some I have seen appear to be prone to fraying, and with time, that can lead to tearing.
Washing notes:
Just as you'd wash any new garment for yourself or a baby before using it, I recommend washing your sling when it arrives, unless it's noted in the description that the fabric has already been washed. It's not germs that are an issue so much as the sizing and dyeing residues that can remain in the fabric; these will wash out, but until they are washed, the chemicals remain on the fabric. Each fabric type has washing directions on its product page, and these are included on the back of the packing slip with your sling, as well as on the innermost tag attached where the rings are sewn in. I am unable to provide washing directions for customer-sent WCRS; please consult the wrap manufacturer's website for this information.