This week's message:
I plan to reopen on the morning of August 4, rather than the evening of Aug. 3 as I had previously announced (I think this will make it easier for people to get orders in, and will allow me to keep a better eye on the numbers). I will be requesting that orders be placed only by those who do not already have a sling they can use, so that people without a sling have a chance to get an order in. Because I'd like to take a break with my kids before school starts again, I will be capping orders at no more than 250 slings -- I have had almost no time to just be with and enjoy my children this summer, and they need me, too.
I will be posting regular updates about the precise time I will reopen the store on my Facebook page. If you "like" my page on Facebook you can get them easily, and if you select "get notifications", Facebook will tell you when I post, which is likely the best way to get reminders. Otherwise, you can always refresh the home page here and check the Facebook feed in the lower right to see what I've posted.
While the store is closed, the "add to cart" button has been removed to keep new orders from being placed. (Clicking "next" will just take you to the next product, not the next step in ordering.)
Cuddle/snuggle/chest-to-chest/tummy-to-tummy hold:
Tummy to tummy is the safest carry for newborns. It is what I recommend for any baby who doesn't yet have good head control, and is also great for babies and toddlers of any age. The chest-to-chest position is comforting and soothing, and many babies prefer being upright in a sling to lying down in the cradle hold (mine both did!). You can also nurse in this position once the baby has good head/neck control.
Start with the bottom edge of the sling snug against your body, with almost no slack; or, for a little newborn, make a pouch with the sling.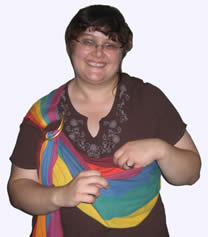 Hold the baby on your shoulder, opposite the rings.

Slide her into the body of the sling, keeping a hand on her bottom for security.

It's fine to keep your arm inside the sling while you're putting the baby in, no matter what position she's in.

For a small baby, I suggest bending her legs a bit, so they're "frogged" in the sling, and keep her feet inside the sling. The picture at right shows how the legs will be inside the sling, for illustrative purposes.

For a bigger baby, her legs should be spread apart and straddle you as much as possible, as though she's riding a horse. That's best for her hip development, and keeps the baby from slipping down in the sling. Her knees should always be higher than her bottom. In addition to being safer, this also keeps the sling from cutting into the backs of their legs. If you feel that you have to hold onto the baby after she is in the sling, you're probably not doing it right; she may not be big enough to have her legs out, or may simply prefer to have her legs unbent, in which case I would make a pouch with the sling and allow her to "stand" in it, provided there is enough fabric to do so.

Tighten the sling by pulling the upper and lower edges of the tail. You'll want the bottom nice and snug, so that it cups around the baby; she should be "sitting" on the bottom edge of the sling. (Newborns can have their legs tucked in, as shown here.) The body of the sling should also be quite snug, to keep her from arching back.

This position allows the baby to look around, but she may also fall asleep. If she slides to the right or left, you can ease her into the cradle hold in either direction.

You will probably find that the higher up on your chest she is, the more comfortable you are. When wearing a baby in any carrier, you'll generally want her bottom to be higher than your bellybutton no matter what. Many women experience back pain from wearing lower than that, but most pain can be avoided with proper positioning. In a good T2T position, you should be able to easily kiss the top of your baby's head.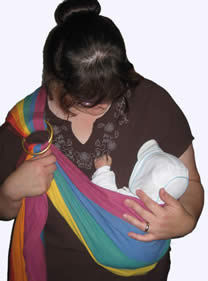 You can either loosen the bottom of the sling to nurse in the cuddle hold (good for bigger babies with head/neck control), or slide the baby into the cradle hold nursing position. I tended to do the latter with my newborn, but frequently used the former with an older baby and toddler. You may need to tighten the body somewhat to keep her secure. You can use the sling tail to cover your breast, if you desire, but be sure you can always see your baby's mouth and nose clearly, and move her back up to a higher position as soon as she is finished nursing.