This week's message:
I've started using the sewing slot system again. I hate to do it, but I simply can't keep up with the order volume that's been consistently high for months now. Please click the link for an explanation of how it works and why I need to use it.

At right, In-stock slots are for fabrics I have on hand (basic and organic fabrics) and will be sewing from scratch; WCRS slots are for things you're having sent to me like wrap pieces, custom fabric, or sling shoulder redos. Next refresh is the date and time I will be adding more sewing slots.
I've changed from sewing a mix of WCRS and in-stock slings each week, to just doing WCRS one week and in-stocks the next. I think this will be more efficient and allow me to sew more slings, and may also may sewing slots easier to get. Sewing slots for both types will be added every other week, in a several batches to give people in different time zones the opportunity to order. If these present a difficulty for you, please email me at info@sleepingbaby.net and let me know.
"Kangaroo" or front-facing carry:
Many babies like to see the world when they're out and about. This hold is particularly goodfor those who have good head control and are learning to sit supported, but who are not yet ready for the hip carry.
Start with the sling in corsage position, with the bottom edge brought up slightly to make a pouch on the inside, and hold your baby on your chest, facing outwards.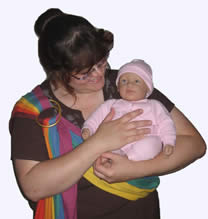 With one hand, lift the baby so that her back is still against your chest, so that she doesn't fall forwards. This slinging position is most stable when the baby's legs are crossed, so cross her legs. Pull her feet upwards, and with your other hand, open the sling to make a pouch.

Lower your baby's feet into the sling, making sure that they are inside the fabric, and not going through the bottom.

Adust and tighten the sling as needed when the baby is in the desired position. The top edge should be particularly snug! Be sure to check the baby's position frequently, especially if you are moving around a lot. It is a good idea to keep one hand on the baby when using this hold, as smaller babies may suddenly flex their legs and "jump" out of the sling! This is less of an issue with a stretchy sling, but can be dangerous if your sling is not made of a stretchy material. Be aware of your baby's position at all times! Also, this hold is not secure when you are bending over forwards. Be sure to hold onto your baby with your hands if you are bending over.

An easy variation on this is a side-sitting carry – basically a cross between the kangaroo carry and the cradle hold. The baby goes in the sling with her head towards the rings, but sitting up. Her feet are inside the sling, as with the cradle hold, but she's upright and able to look around with her head free of the sling. Of course, this is appropriate only for babies with head control, but it's a great transition between the cradle hold and the hip carry.