The future of WCRS and other customer-sent slings
In brief: Regulations concerning the testing of ring slings and wraps will likely be mandatory by the end of 2017. Similar regulations have gone into effect for mei tais and SSCs; these do not affect ring slings, so yes, you can still send your wrap to be converted :) This page explains what will happen as the regulatory deadline approaches.
The implementation date of the ASTM standard for mei tais and SSCs was September 29, 2014. Update! The final rule on the sling standard has been approved, and the standard for ring slings and wraps will be mandatory in the beginning of 2018. At that time, I will no longer be able to accept customers' used wraps for conversion. I will still be doing new WCRS with the caveat that the wrap *has* to be brand-new, and it will have to be among the brands AND weaves that I've tested with. This will likely mean there will be only a few brands I can convert when the standard becomes mandatory. However, as that milestone has not yet been reached, I will continue to do customer-sent and/or used conversions until I am no longer legally able to do so. This also applies to other customer-sent fabrics (including tablecloths); I will make custom-sewn slings from them until it's no longer allowed.
I will be submitting my in-stock fabrics for testing. I will probably not be able to do all the organic fabrics (they're all different weaves and weights and will require separate tests for each one). I hope to work with retailers to test their biggest-selling WCRS fabrics, including standard and diamond-weave Girasols and perhaps one or two other brands. I will not be able to do conversions on anything I haven't tested, and anything used is also a no-go. This will mean that the sling market will change drastically, in that those one of a kind conversions will no longer be allowed, nor the legacy-wrap type conversions. I'm sure there will be unscrupulous (or unknowing) people who will continue to do them, but they will be in violation of federal laws, so I will not be among them. And no, sending your wrap to Canada will also not be a workaround, since any product sold into the US has to comply, so your Canadian converter can't legally send it back to you.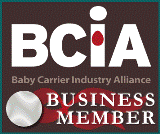 A note on abbreviations you might see -- I am a member of the BCIA, the Baby Carrier Industry Alliance. (Actually I was a founding board member, but now I'm just a regular member.) The BCIA is essentially an industry club. While there are BCIA members who volunteer to work with the CPSC (Consumer Product Safety Commission) on the ASTM (American Society of Testing and Materials, though now they just use ASTM because it's international) sling standard, the BCIA does not set or have other undue influence on the standard's creation. They help members reach compliance with the standards and the CPSIA (above), but there is no "BCIA certification" or "BCIA compliance". Either a business complies with the standards and rules or they don't; the BCIA doesn't judge that or certify its members. The phrase "BCIA Compliant" in a seller's listing is a huge red flag that they are probably not following the rules, since they either don't understand or are ignorant of what they actually need to do to comply.