sleeping baby productions
quietly delivering quality since 2001
time to make your new sling!
shop in-stock slings
A custom sewn sling at a price that won't break the bank? You can get it here. And while you might expect a custom-sewn sling to take days to ship, my usual sewing time is 1-2 business days, often with same-day shipping on slings ordered early in the day. Choose your fabric type, fabric color, ring color, and size, and relax knowing that your sling will be made by just one pair of hands -- mine -- with over 18 years of sling sewing experience and thousands of positive reviews over the years.
The following discounts apply in all these categories.
Free first-class shipping
$8 off two or more slings

Linen may just be the best sling fabric there is. It's strong, supportive, long-wearing, and is especially terrific for hot climates, since the fibers tend to wick moisture away and allow it to evaporate. Great from birth through toddlerhood.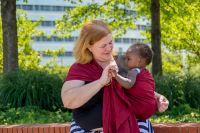 French twill is lightweight and sturdy, woven from 100% cotton. Brushed on the outside for strokable softness, the inside in the tail is smooth for ease of adjustment. Wonderful as a starter sling with newborns; its easy adjustment makes it great for learning to use a sling.
Exclusive collaborations between Tekhni Wovens and SBP, you won't find these anywhere else! Jacquard-woven Repreve-blend slings are soft enough for newborns, but sturdy enough for the heaviest preschooler who wants uppies. Geek out with me on limited-edition fandom slings, too!