two layered, comfortable
fabric face masks
Each includes a wire for better fit along the nose; your choice of elastic or a ribbon for tying (both around the head, not around your ears); a pocket for filter material; and four sizes to provide a good fit for your face (essential for best protection). Made with an outer layer of high-quality, tightly-woven quilting fabric, and an inner layer of sturdy, soft French twill with its brushed side out for comfort.
I'm doing my best to keep up with demand, but please understand that turnaround may take 7-10 days with high volumes of ordering.
The following discounts apply in all these categories.
Free first-class shipping

Masks made with fabrics I will be able to reorder on a regular basis -- if the quantities read zero, I'll be adding more at some future date.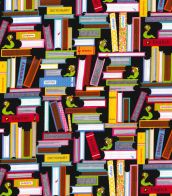 Masks made with limited fabrics I am not able to reorder -- when the quantity on something is a zero, it means I'm all out and won't be able to get more.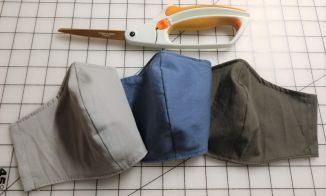 Solid color masks -- mostly not reorderable. I'll pick up more solid-color fabrics in the next few weeks, though.
If you have an issue with the cart (some users are finding that they add an item to their cart, but then it says the cart is empty), please email your order details to me at info@sleepingbaby.net and I'll send an invoice instead. I apologize for the difficulty; I updated the cart software and now there's a caching issue that I can't get around.