past productions: home-based businesses
Please note: a number of these sites are no longer being maintained; in some cases, the sites have been taken over by the customer themselves or a new designer. The screenshots show my work.
New! sleeping baby productions
I just redesigned the baby carrier section of my site... maybe you came to this page through it? Doing the LunaDoula site made me think about moons and stars, hence the superficial resemblence. I'd gotten a comment or two that my baby carrier site was a little sparse, and not very friendly, but I think it's much nicer now.
New! Luna Doula
Beth provides doula services in her area. Her previous site was functional, but didn't have much in the way of eye appeal. I designed her a new logo and built the look of the site around it, and her specifications. Lots of graphics, but they're small, and the frameset means they need only load once.
New! Gypsy Mama
I met Kristi at the Museum of Science in Boston, which is strange, because she lives right near us! She's just started selling wrap-style carriers, and needed a nice website to go with her nice idea. The colors are all as vibrant as her fabrics! Need I mention that everything is stylesheet-based?
"I get so many compliments on my website; it truly is a work of art. Jan hit on exactly the image I wanted to portray within her first mockup of my site, and her work is fast and with great attention to detail."
The Baby Space
Kristine makes a sling called "The Adjustable Pouch". She'd started out doing her website on Yahoo! Pagebuilder, but it was no longer meeting her needs, so she got in touch with me. The image is based on her own drawing, with a few little tweaks, and the rest is all style sheets. (I love style sheets!)
Kristine has since grown in her own web design abilities, and her new site is her own redesign.
Izmudd Arts
Maxx is a freelance henna artist who needed a simple site to post her galleries, but didn't have enough time to put one together herself. I did her site quickly and for very little money, and provided templates for her so that she can maintain the site herself.
Her site is almost entirely CSS-driven, and because her galleries will consume a lot of bandwidth, it is heavily optimized.
"I wanted a web site that was simple, loud and direct. And a bit quirky, too, actually. Jan gave me precisely what I wanted (she didn't even flinch at my proposed color combinations!). My budget was tight yet we found a way to get my site up and running very quickly. I had many questions which she answered thoroughly and clearly, in a language I could understand : English (no, just kidding). I am very grateful to Sleeping Baby Productions for an excellent job on my much-needed site. Thank you, Jan!"
BusyBlankets
Though she is still in the process of creating inventory, Jen wanted a web presence for her new company -- something very colorful and unique, like her products. While it appears graphics-heavy, most of the images are very small, and their placement is controlled by a combination of tables and CSS, so it actually loads quite quickly.
(The customer never really used this site -- she has since moved on to another product concept, so this exists only in my portfolio.)
SlingRings
I found SlingRings on the web when I was doing a search for sites that link to mine. Rochelle and her husband manufacture nylon rings for slings, and the majority of their business comes from moms who sew slings at home. Their previous page was functional, but was based on Microsoft templates. I want their business to succeed, because I have tried their rings and they really are quite nice to work with and to wear, so I offered to redo the site in exchange for some rings to use myself. (The rings are great -- if you sew slings, do pick some up!) I took the colors from their previous page, but I'm most proud of the linked rings for the letter G in the logo!
Rochelle has since moved to the PHP format, and the service she used to do that has changed the layout somewhat. I liked my stylesheet better :) They added the shopping cart, too, which is nice.
Paper-Pushers Resume Drafting Service
Paper-Pushers Resume Drafting Service is a small company with big goals. Based in Dover, NH, their ambition is to help those who would not otherwise be able to afford a professional resume. I read about Paper-Pushers in our local community paper, and decided I could help them, too!
"I know this is going to sound like I was paid to write this, but every word of the following is true. Sleeping Baby Productions was great to work with. The best thing about working with Jan is that she really works to serve your website needs. Jan has a great entrepreneurial sense, and a design philosophy that can only enhance your objectives.
"She is a great listener, and will carry out your suggestions to the letter, quickly and efficiently. However, she will also make subtle suggestions to enhance your site, adding her own design artistry to take your site to a level you didn't initially contemplate. For instance, I had definite ideas about what I wanted and she ran with them. However, I also trusted her judgment and always sought her input - it got to the point where I would defer to her, totally (something my lawyer-training usually prohibits!). Paper-Pushers Resume Drafting Service is very proud of our website and we are very happy to credit Jan with helping our Internet business get off the ground! You can afford her fees, and she's flexible about payment. She really likes to help small businesses!"
Paper-Pushers Resume Drafting Service
deBy Birth Support
In 2000, the baby of sleeping baby productions was on his way, and I began seeing a midwife. She sells a birth support made by a friend of hers from the Netherlands (Connie deBy -- pronounced deh-BEE) and had been wanting a webpage for a long time. Her page exemplifies what I love about doing web design for small businesses: bartering! I am happy to use barter for little companies that might not otherwise have the capital for a web site.
Qamar Franji Eastern Arts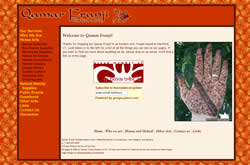 There's also hennadancer.com, the site of a friend from high school, who has a small business selling henna, teaching Middle-Eastern dance, sewing ethnic clothing, and creating other Eastern crafts. I put her site together in exchange for henna powder, another example of barter at work!
"I had a site made from one of those do-it-yourself free services and it was pretty decent, but since Jan took over, it's gotten much richer than I imagined or could have done myself. She took my ideas and developed them into a site that's fun to look at, easy to navigate, fast-loading (an essential for business!), and best of all is generating sales of four of five times what I was getting before.. Her prices are extremely reasonable and her response time for making changes is very quick. I recommend Sleeping Baby Productions to my friends and fellow businesspeople on a regular basis, and everyone that's gone with her has had the same great things to say."
Lauren Grover, Qamar Franji Eastern Arts
EveryDay Mehndi
Another henna site: EveryDay Mehndi, which is run by a friend of Lauren's. This was the most extensive e-commerce site I've worked on so far, with hundreds of products and as many shopping cart links. I probably wouldn't have chosen the colors myself (they were the client's design idea), but they seemed to work well with her merchandise.
Unfortunately, Maureen passed on in 2006, and since then, the site has been run by her brothers, but they are not filling orders as they ought, and I have disabled the links to the site since I am no longer the webmaster (even though the new company has left my contact info on most of the pages).
Here's what Maureen had to say in 2004, though:
"Hey, we love our new website. Just when we thought getting a website up and functioning again quickly and affordably was an impossibility, we found Jan. The rest is history except for our praise for her work and gratitude for finding someone so professional and efficient. We cannot praise her too much or recommend her too highly. Try her! You will see what we mean."
Maureen & Robert, EveryDay Mehndi