Tour of the Main Room
This picture is actually a composite of four different photos, hence the odd angles and seemingly large size of the room (which is actually about 12' x 14')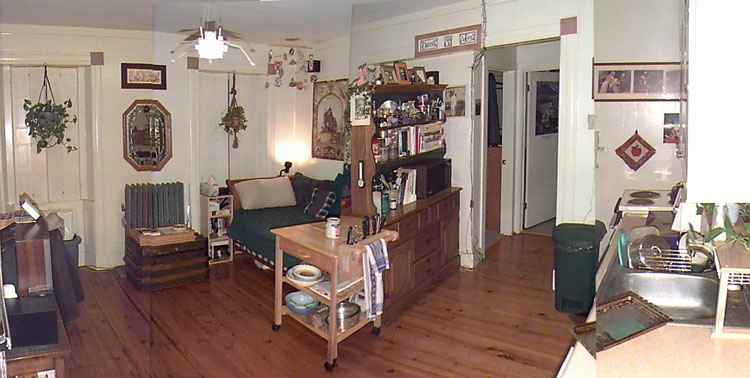 The Main Room (including the Kitchen, Dining Area, Sitting Area, and Entertainment Center). This is an image map!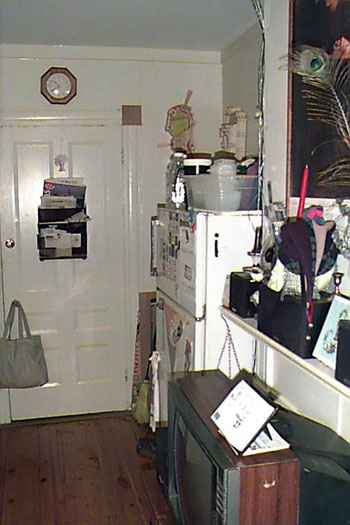 View of the Doorway to the Main Room (cannot be seen in the first picture). This is also an image map.
The Expansive and Well-Equipped Kitchen area (hah!) Note the tiny oven and lack of cabinet space...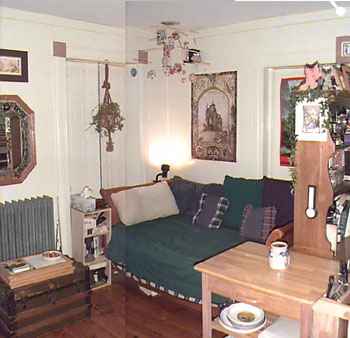 The sitting area, which doubles as a guest bedroom. The Escher Mobild hangs just above the white pillow. Note the shelves to the left of the bed -- those were made by Bob, my mom's S.O. He is a great carpenter!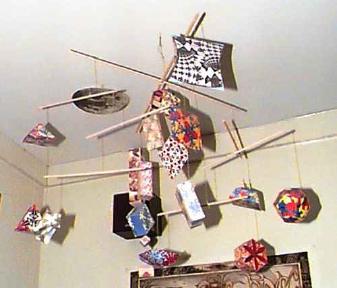 The Escher Mobile (made from a book of Escher-print boxes).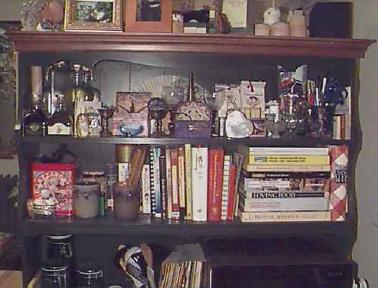 The Kitchen Catch-all shelves -- full of cookbooks and knick-nacks.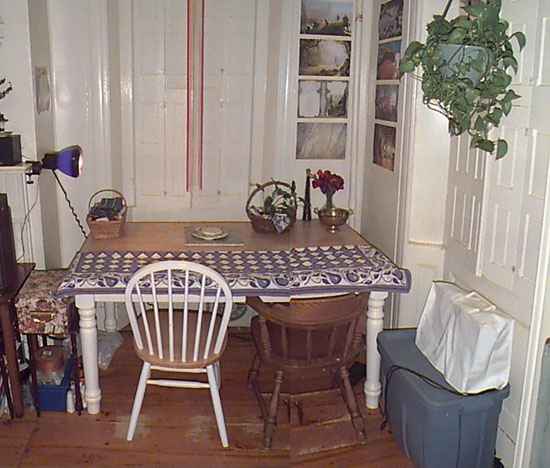 The lovely Dining Area, which is also the sewing room (machine to the right, sewing supplies to the left). Note one of the few healthy plants in the upper right-hand corner -- much as I love plants, I seem to have a black thumb...
The Enertaiment center and Mantle Piece (with the Lord Leighton print Dave got me for my birthday about 6 years ago, because he looks just like Lord Leighton). Closeups of the mantle and the Skull Guy who lives there are below.
The Skull Guy. He gets new decorations every once in a while. He has a can of SPAM for brains and a vial of mercury in his mouth.... mmm, mercury...
The grand Castles, made from Dover cut-and-paste books.
Go on into the Hallway, or visit the Master Bedroom or the Computer Room!
All content, barring that which is otherwise attributed, is ©2007 to Jan Andrea. If you wish to use my content on another page, please email before doing so, even for content with the Creative Commons licenses. Text/images used elsewhere must be attributed to me. Be advised that I will pursue copyright violations.